This page is here to illustrate some working stages of projects I have made or techniques I use. It is not intended to be a tutorial but really meant to show how I make things based on or adapted from methods I have learned.
If you have a question or comment please let me know here - I will do my best to reply and supply any information that may help.
 The first place I start with any project is a Plan - this is a step I still have to fully master as I often just make things up as I go along just to see how they will turn out. This is great to experiment or try out new techniques but I would not recommend it if you have to knuckle down and get a project made - so, PLAN!
Even if the project is something I have made before it is always worth sketching out all the components on paper along with their dimensions, this helps visualise the stages of the project and organise an efficient workflow. As some items may need to be soaked and need time to dry or other parts may need to be glued, organising your workflow can keep the frustration of waiting time down to a minimum. I save a lot of these sketches as they come in handy for reference.
If you make similar types of item all of the time you will probably be working off of patterns and templates  - and you won't be reading this anyway.
All of my bags are bespoke so sizes and specifications change from project to project but my process follows a similar path each time:
Project design
Materials selection
Rough plan sketch of components
Marking out
Cutting, shaping and stitch marking
Assembly
Finishing
There is no one stage more important than any other but accurate marking and cutting will make for easier assembly and finishing.
I try to personally go and select each piece of leather from my suppliers which also gives me the chance to ask questions -  they generally know more about the material than I could ever hope to.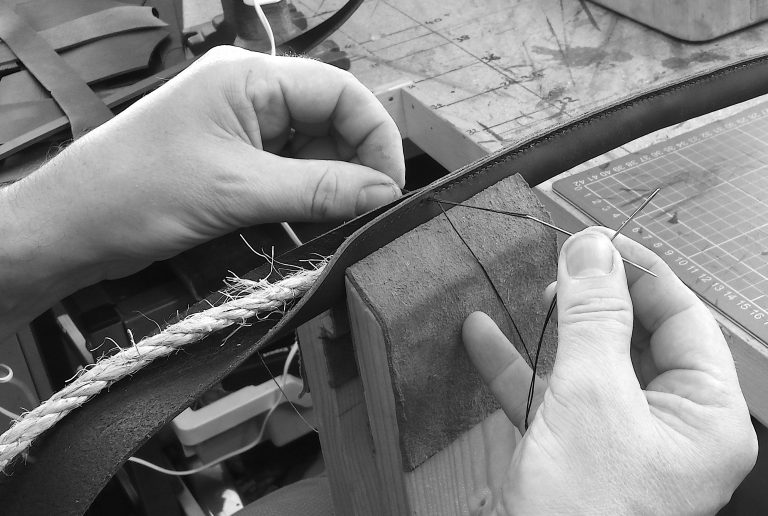 Practice does not make you perfect but it will take you to a level of skill you weren't at before. If you get a chance to learn from somebody in person you will get more from watching an experienced craftsperson in the way they use and hold tools than you ever will from just reading step-by-step tutorials. That being said,
The Leatherworking Handbook
 (ISBN 10: 1844034747)
by Valerie Michael is one book I would recommend.
On my links page you will find details of leathercraft training establishments I have personally attended and can whole-heartedly recommend.
PROJECTS
The following sections will be updated with other projects so please check back from time-to-time